Since first seeing the Inkling advert, I wanted it, as I'm an easily influenced consumer that loves digital art toys. The Wacom Inutos 4 is brilliant but I can't seem to capture the weight and texture that strokes on paper make. In my work process I sketch and ink images on paper then scan them in and either vector over them in Illustrator or digitally paint them in Photoshop. The Inkling looked like it had great time saving potential as I could skip the whole scanning and cleaning line art phase.
So I finally treated myself to one this week! Here's an annotated photo of the kit (please excuse my Wacom tablet scribble handwriting).
It was easy to set up and start using. I just had to charge the pen and sensor via the USB case first. Then I started doodling some things out. These were for a logo / brand concept I'm working on at the moment. However when I plugged the sensor in and open up the Sketch Manager software, some of the lines were missing.
So I tried again. This time I inked an existing pencil drawing. It's a mermaid by the way – half fish, half woman. I also apologise if fish breasts offend you.
I found the trick is make sure the middle green light comes on when you are applying pressure and making a pen stroke. There are some tips in the Inkling manual about how to hold the pen so the sensor the detects it.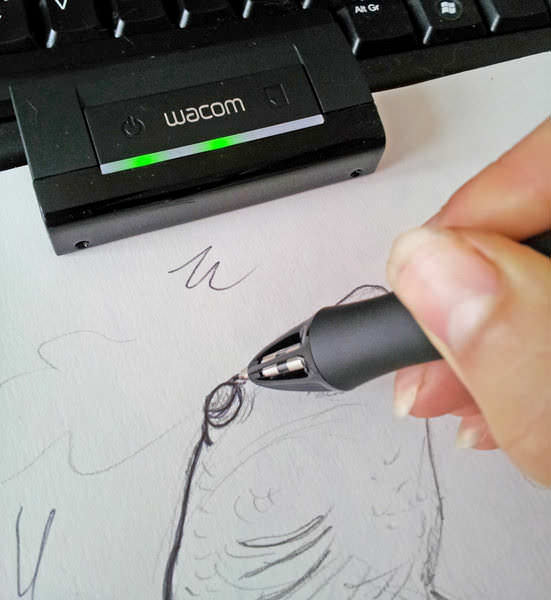 This one imported a lot better. I separated the image into 2 layers. One for line art and one for shading.
One of the cool sketch manager features is a video playback so you can watch your sketch being created. I can see some fun animation potential for this. I tried to capture this sketch play back with Cam Studio but it either caused a screen lock and crash or produced a corrupted AVI file. That's a technical issue I'll sort out another time.
Personally I prefer the Photoshop import. The lines are much smoother. However I can see lots of potential for importing drawings as vectors and being able to easily edit them and apply different brush effects. One of the things I dislike about vectors is the unnatural looking, perfectly smooth lines that the pen and bezier tool creates. So the Inkling could be a way around that.
I'm going to try it with storyboard and concept sketches next. It is compact and light so I could use it to capture sketches when I'm out and about. However I'm worried the sensor may not detect everything properly and I will just end up having to scan the image anyway.
Overall I think the Inkling is a great piece of kit and worth the price. I am a little disappointed with the sensor detection and some of the imported line quality. It isn't as pressure sensitive as the Intuos 4 and the resulting image isn't quite as good as a hand drawn and scanned piece. On the plus side I can see lots of time saving potential for my work flow.