Recently, I've been involved in The Anna Freud National Centre for Children and Families #selfcaresummer challenge, by sharing a video and talking about the benefits of drawing and painting for mental health and wellbeing. It's fantastic that awareness around self care and mental health is increasing, and I'm glad to contribute to such a brilliant set of resources for information and inspiration on mental health self care activities.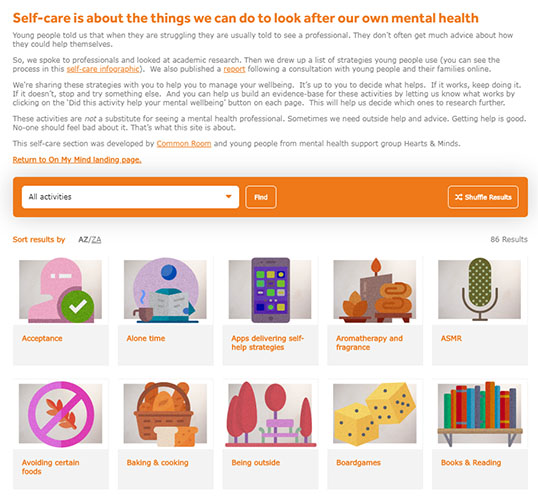 The Anna Freud National Centre For Children and Families
The Anna Freud National Centre for Children and Families is a children's mental health charity with over 60 years of experience in caring for young minds. The Centre researches, develops and delivers pioneering mental health care and aims to transform children's mental health provision in the UK.
You can find out more about The Anna Freud Centre here.
We All Have Mental Health
I previously worked with The Anna Freud Centre in 2018 on the animation project 'We All Have Mental Health,' which is a teaching resource being used in schools to raise awareness and encourage discussions about mental health among secondary school aged children. The animation and accompanying Teachers Toolkit (an information pack and lesson plans), were sent to every secondary school in England and shared on social media, further raising awareness of mental health and wellbeing, and offering practical mental health advice.
You can find out more about this animation project on the Anna Freud website, or on my website here.
Drawing and Painting for Mental Health
If you follow me on Instagram, you'll know how important drawing, painting and being creative is to me. I like to challenge myself to create a Friday Sketch each week, in which I aim to create at least once piece of personal artwork a week. I find it really therapeutic, and it helps me be creative. Drawing and painting can help you feel less stressed, take your mind off things, and is also a great way to express your thoughts and feelings.
View this post on Instagram
The Self Care Summer Challenge
The Anna Freud Centre have launched a brilliant #selfcaresummer campaign, which challenges young people to try at least one self care strategy a week over the summer, from their comprehensive selection of self care strategies.
I'm really pleased to have had the opportunity to contribute to the challenge by making a video about how drawing and painting can be helpful acts of selfcare for mental health, which has been added to their impressive collection of 86 self care strategies to help young people manage their own mental health and wellbeing. You can check out the video below:
My Tips for Drawing and Paining for Self Care:
You don't have to know what you want to draw! Start with anything!

I like to start with eyes, and then add some doodles and shapes.

Draw characters or facial expressions that match how you're feeling.
Try listening to music or podcasts while creating.
Painting can be really fun, as it can be so colourful, tactile and messy!

Try splatting the paint or making random brush strokes.

Painting is also great for mindfulness; allow yourself to become absorbed in the mark-making.
If you're not very confident or not sure what to draw, try a mindfulness colouring book.
It's not about creating a perfect picture, it's about enjoying the process and being able to express yourself.
Share Your Artwork!
The Anna Freud Centre have been talking about the summer challenge on Instagram and Twitter and sharing lots of tips; It's lovely to see so many young people (and adults alike!) getting involved by sharing their own self care tips, experience and photos.
Not long ago, I shared the video I created for The Anna Freud Centre on Twitter, with the aim of showing how calming, enjoyable and hopefully not too intimidating paining and drawing can be! It's been so awesome to see people sharing their artwork in response. 
If you've been inspired to draw, paint or be creative after watching my video or reading this blog post, I'd love to see your artwork! Be sure to tag me, and The Anna Freud Centre if you share your work on social media!
Educational and Teaching Resource Animation
If you are interested in talking to me about an educational or teaching resource animation, like the 'We All Have Mental Health' animation I created for The Anna Freud Centre, please do get in touch through my contact page here; I'm always happy to talk about potential animation projects.