I had an amazing time at the Adobe After Effects World Conference on the 27th and 28th of July! I met so many solid people to geek out with over After Effects and motion design stuff. Having not long returned to the UK, I'm excited to share a little bit about how awesome the conference was, and what I got up to in Seattle. ⁠
I prepared three sessions for The Conference:
Rigging Unique Illustrative Style Characters which covered rigging more complex characters with texture, shading, detailed facial features and outlines,
View this post on Instagram
Rigging Non-Human Characters in After Effects which dove deeper into Duik Bassel's rigging tools to tackle animating non-human characters, and,
View this post on Instagram
Motion Paintings and Illustrations  which covered techniques, tips and tricks for working with digital paintings and textured style illustrations that have a hand drawn, traditional media vibe.
View this post on Instagram
Thank you to the Motion Hatch Mastermind group for their help and advice when I was preparing the talks and to all the people who attended my sessions and spoke with me. It was so nice to hear when people found my talks useful and learned something new.
I also want to give a special thanks to:
for giving their time and watching me rehearse!
And thank you to the other speakers for welcoming me, giving me advice, helping to alleviate my anxieties before speaking and for some awesome chit chat! ⁠In between my talks I had the joy of being able to watch the other speakers' talks, and learn some new stuff.
Organic Energy Effects From Scratch, by Daniel Hashimoto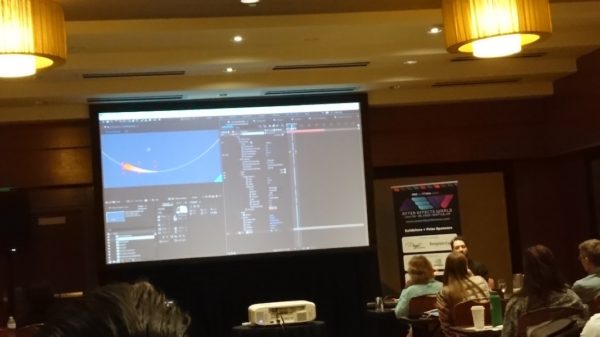 Thinking Outside the Text Box – Creative Use of the After Effects Text Animation Engine, by Kyle Hamrick
A full list of speakers who spoke at the Adobe After Effects World Conference can be viewed here.
FMC training recorded the sessions and these will be available to purchase and watch at some point. I'll be sure to link to them when they become available. For previews of my talks, you can check out some of my Instagram posts, and previous blog post about preparing for the Adobe After Effects World Conference.
Exploring Seattle
I have to give a huge thank you to the FMC training team for inviting me to speak and organising a brilliant event. Everything ran so smoothly and was really comfortable! And thank you to the super friendly Adobe After Effects team who were familiar with Seattle and took us to some awesome local spots in the evenings. Here are some photos from my time exploring Seattle.
Evening drinks at a Seattle brewery. 
Visiting Golden Gardens Park, Seattle.
Just Duik
Whilst in Seattle, I got this awesome T-shirt, which can be bought here. All proceeds go to the creators of Duik who keep Duik a free and open source. Duik is an invaluable tool kit for After Effects and I'm a huge fan of it and use it all the time in my work. You can find out more about Duik here.
⁠
Carbon offsetting
To offset the carbon emissions of my flights from the UK to Seattle, USA, I have donated to Trees for Cities. The money will go directly towards planting trees in UK cities which will capture carbon to offset my flights. I also donated to the United Nation's carbon offsetting plan, supporting renewable energy projects.